Have you always dreamed of traveling to Japan but were afraid it would be too expensive and too intimidating? You've come to the right place.
I will be sharing here all of my insight on Japanese culture, food, language, and travel gained from 13 years of living, working, and traveling in Tokyo and around Japan. Having been born and raised in this magnificent country that still remains enigmatic to most, you will get a glimpse of Japan through the eyes of a true local – I even get accused of being more Japanese than the Japanese.
Japan, and especially Tokyo, has been long categorized as an expensive travel destination and place to live in. Count on me to tell you where, when and how to go for a genuinely Japanese adventure. No need for shoestrings or volunteering on farms as part of silly budget travel schemes out there! The point is to get what you should get out of Japan and be able to afford it. Your vacation is not another season of Survivor.
Apart from the information available on this blog, I have also written a book that guides you through the smart way to experience Japan, while saving hundreds of dollars. My goal is for you to find the right things to do in Japan, and make them affordable for those of you who are on a budget or just want a wallet-friendly vacation. The secret to a successful trip to Japan is not how much money you spend and how much you tighten your budget, but how you maximize the return on your investment. You need to travel SMART, not CHEAP, though they do often coincide.
In my book, "All-You-Can Japan: Getting the Most Bang For Your Yen" that is now out in its new and updated second edition, I provide you with a sensible Japan travel strategy and many useful Japanese phrases. The book is available in print and electronic formats on Amazon.com and other ebook stores. Check out the All-You-Can Japan homepage for more reviews and information, or to download a free chapter.
Let a veteran who has lived, worked, and traveled in Japan for over a decade combined show you how to make the SMART choices and achieve the complete Japanese experience within your set budget, and even save hundreds of dollars while you are at it. Download the first chapter for free from www.allyoucanjapan.com to get a sneak preview!
Enjoy!
Share
The Hakone region with lake Ashi at the center is the perfect place to catch a glimpse of Mount Fuji towering over the horizon. Fuji-Hakone-Izu National Park offers numerous hiking trails amongst the gorgeous scenery and is perfect for day trips. Hakone is filled with elegant spas and fantastic resorts that complete a relaxing excursion outside the city. Only a day trip away from Tokyo, Hakone continues to draw local and international travelers alike who come to witness the beauty of lake meets majestic mountain. Hop on the shinkansen or bullet train to Odawara, and from there, transfer to Hakone for the fastest route.
The sights of Lake Ashi are best seen with a unique boat ride across the water. Embark across Ashinoko on a fun vessel that resembles a pirate ship and capture the spectacular view of Mount Fuji on a clear day. Along the way, notice the Hakone Jinja Shrine with torii gates on the water to mark its location. This picturesque shrine is one you won't want to miss, so be sure to hike to the top to see it up close!
At Hakone's Open Air Museum, enjoy prime art exhibits with beautiful sculptures and paintings on display. This gallery is also home to a fascinating Picasso Pavilion that completes the experience. The open air museum also includes a Footbath Spa "Hot Foot," a great way to ease weary feet from a day of trekking the sights at Hakone.
When in Hakone, stay inside one of the traditional Japanese inns called ryokan and enjoy some old-school Japanese hospitality. Hakone is also home to an array of onsen or hot springs that are the perfect way to experience steamy relaxation after a long day hiking the trails. Throughout Hakone, volcanic activity can be viewed in places like the Great Boiling Valley or Owakudani. Take a cable car ride to visit this particular volcanic spring that bubbles with pockets of sulfurous steam released from below the earth. Be sure to try the black eggs or kuro-tamago when at Owakudani. According to legend, eating one of these boiled eggs is said to add seven years to your life!
Share
Japan is home to amazing festivals that celebrate the seasons all year round. Every town offers its own unique festivals that are enhanced with local foods, traditions and fabulous entertainment.
Travel to Japan in the spring and enjoy the world-renown scenery of cherry tree blooms. Many cherry blossom festivals can be found throughout the entire country during this time of year. Some of the best places for "hanami" or flower-viewing include Mount Yoshino in Nara and Ueno Park in Tokyo. In Hirosaki, the Sakura-matsuri festival is held each spring in a park called Hirosaki Koen. Thousands of cherry trees bloom into pale pink and surround the moat for breathtaking views. Stick around to see the trees illuminated in the evening. Another great spring festival in Japan is one held in Kyoto, called Higashiyama Hana Touro. At this festival everyone gathers with flowers and lanterns in the streets to celebrate and be merry.
In the summer time, two popular favorites are the Sumida Fireworks Festival and the Nebuta Festival. The first, Sumida Fireworks Festival, is among the oldest and largest displays of fireworks lighting up the sky in thousands. The Nebuta Festival held in Aomori and Hirosaki is celebrated by parading beautiful warrior dolls through town. These warrior dolls are a colorful sight and often resemble kabuki costumes. At the Nebuta Festival dances are performed to the beats of traditional drums and fun festival music.
When autumn comes around, Japan is transformed into brilliant shades of red, orange and yellow. The Japanese celebrate this beautiful foliage season with events like the Takayama Festival (held in the both the spring and fall), which is one of the largest festivals in Japan. While the festival in the spring is held to ask for a bountiful harvest, the fall festival is to give thanks. At the autumn festival, the Sakura-yama Hachiman-gu Shrine is involved and magnificent floats parade through the streets to honor the abundance of a good harvest. Autumn is also about the seasonal food, which alone makes it the favorite part of the year for many Japanese.
For the most spectacular winter festivities, you won't want to miss the Sapporo Snow Festival. Journey to the north where this prime winter celebration is held in Hokkaido every year. The Sapporo Snow Festival is held for a week in February. Take a look around Odori Park, where giant crystallized snow and ice sculptures tower over the crowds with castles and icons that are sure to intrigue even the starkest of skeptics.
Share
Japanese passengers move 32-ton train to rescue trapped woman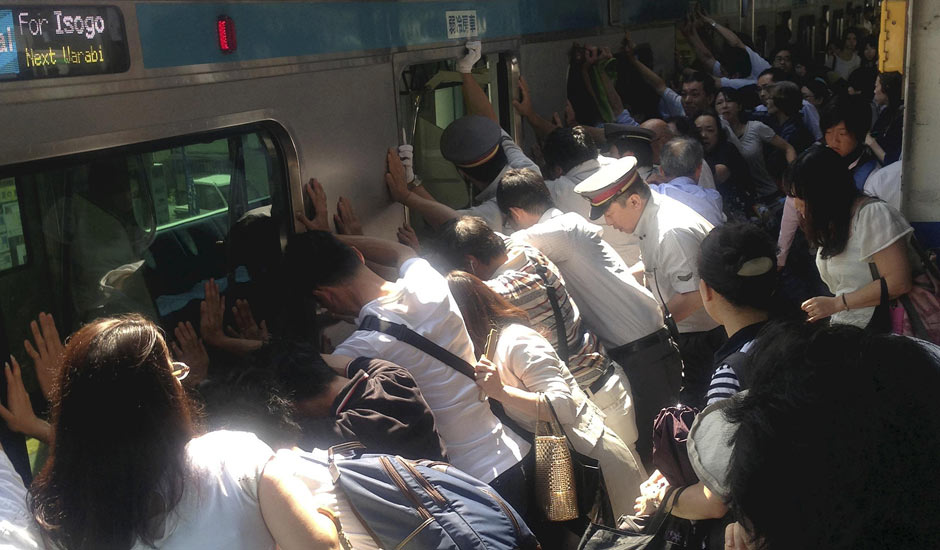 Share
I came across a very unique book depicting Japan through some mesmerizing drawings called Japan 365: A Drawing-A-Day Project by J Muzacz:
The book is simply a collection of ballpoint drawings, one for every day of the year 2011 – the year of the Great Tohoku Earthquake and Tsunami Disaster. Far from just sketchbook pages, Japan 365 engulfs the vast culture of Japan visually and with extensive captions and history, ranging in content from food to music to landscapes to people, many of which have never been seen in print. Whether to call Japan 365 a Travel, Art, Reference, Japanese Culture, History, or Language book, is too difficult to decide and irrelevant. It is diverse as it is beautiful. J Muzacz is currently working on his second book: Life Is Sweet: The Story of a Sugarcane Field. This latest project, after three-months of back-breaking labor in the "satou-kibi" sugarcane fields, will be the first ever picture book in English about the field, cute critters therein, traditional and modern harvest and processing methods and some of the colorful local characters involved on Ishigaki Island in southern Okinawa. J is currently fundraising to self-publish this project at http://www.indiegogo.com/lifeissweet.
Share